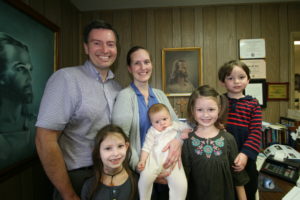 Rickman Family Newsletters
We are blessed to support Rev. Arthur and Eva Rickman and their family serving in Panama.  Good, good and faithful people who really, really get it.
Rev. Arthur and Deaconess Eva Rickman serve the Lord as missionaries in Latin America, based in Panama. Arthur serves as an area facilitator in the region (Colombia, Cuba, Mexico and Panama), building and strengthening relationships with LCMS partners.  In addition, Arthur helps administrate theological education opportunities and manage diaconal work throughout the area in which he serves. He also serves the local church in Panama in various ways.
Serving as a deaconess, Eva assists with deaconess formation. Additionally, she encourages and supports the mercy work that is happening throughout this region. Before returning to Latin America, Arthur and Eva served in Asia, based in Hong Kong. Arthur and Eva are from Long Beach, Calif., where they attended Bethany Lutheran Church.
They both earned undergraduate degrees from California State University, Long Beach. Arthur graduated with a Bachelor of Science degree in microbiology, and Eva earned her bachelor's degree in chemistry, biochemistry and English. As Arthur studied for his Master of Divinity from Concordia Seminary, St. Louis, Eva worked concurrently toward a Master of Systematic Theology and Deaconess Certification.
The couple then spent two years in Panama, where Arthur served as vicar while Eva trained deaconesses in the Lutheran Church of Panama. After graduating, the Rickmans moved to Grand Mound, Iowa, so Arthur could serve as pastor of Immanuel Lutheran Church. The Rickmans then returned to Latin America where he served in Belize, Guatemala, Mexico and Panama, overseeing theological education, helping with church relations and providing spiritual care to those serving on the LCMS Latin America team.
Arthur's hobbies include hiking, fishing and cooking, and Eva enjoys reading, writing and sewing. They both enjoy spending time with their five children: Bethany, Zoe, Noah, Nathaniel and Mary Anna. Pray for the Rickman family as they serve.  Visit their website - www.lcms.org/rickman